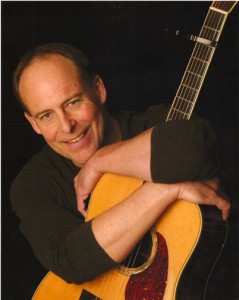 In 1987, LJ Booth came out of the central Wisconsin woodwork with his debut album YARNS, which was described as "simply great music." In the years following, he entered three songwriting competitions; Kerrville's New Folk, Telluride's Troubadour, and Falcon Ridge's Showcase….and won all three.
Born in the Philippines, most of LJ's childhood was spent overseas… living in northern India from the age of five to ten. With traveling in his blood, LJ hitchhiked extensively in the States and in Europe after leaving home…working a variety of jobs from oil rigs in Wyoming to playing street music in Germany and Switzerland.
Acoustic Guitar said "..this gifted singer-songwriter skillfully connects the dots between his own past, present and future with succinct, often powerful lyrics, appealing melodies, and agile fingerpicking… his keen fascination with life's journey draws listeners closer to the memories and revelations that make it worth traveling.."
The show is at 3:30 on Sunday. Click HERE for details.