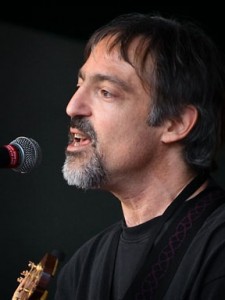 This down to earth musical storyteller, with his dry, barb-witted social commentary combined with a deep underlying compassion, knows that the best stories are the little things in the lives of everyday people trying to muddle through with some grace. His great gift as a writer is to infuse these stories with humanity and humor, making them resonate profoundly with his listeners. His spoken introductions to his songs can be as spellbinding as his colorful lyrics, which he brings to life with a well-travelled voice and a delivery that's natural and conversational. His groove-oriented strumming and fingerpicking draw on influences from the mountains of western North Carolina where he now lives, and from lots of different good old traditional folk stuff of all kinds.
Chuck Brodsky's songwriting pokes fun at political corruption, road rage, mischief he made as a kid, even dumping garbage in the river; he sings about unsung heroes and forgotten but incredible people…odd characters from the game of baseball, migrant fruit pickers, the Goat Man, a clown, or "Radio," a developmentally disabled man and the love showered on him for 40 years at a high school in South Carolina (this song was used in the 2003 movie "Radio").
The New York Times says…"What tales this singer-songwriter from Philadelphia has…With insight and good humor, he has taken these life experiences and distilled them into old fashioned story songs brimming with wit and compassion."
This is a Saturday evening show.  Click HERE for details.
Don't miss our final concert of the season…it's sure to be one you'll remember!