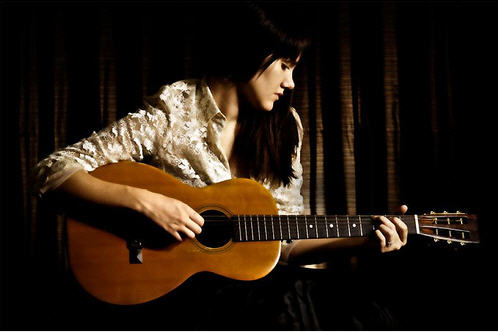 Fine Arts Concert Series Hosts
Grace Pettis is the 22-year-old daughter of singer/songwriter Pierce Pettis, and has just released her debut, self-titled CD, Grace Pettis, on the Blue Rock Artists label. Already, Grace has begun to earn national recognition, with her 2009 win at the Mountain Stage NewSong Songwriting Competition. Grace performed on the prestigious Mountain Stage radio show for NPR, and was also awarded NewSong's 'best song' award for her 'Nine to Five Girl.' In addition, Grace also was awarded 'audience favorite' at the May 2010 Wildflower Songwriting Contest in Richardson, TX, where she won the prize of a handmade Gallagher guitar. Summer 2010, she will compete in the Rocky Mountain Folks Festival songwriting contest.
"It might be expected that the daughter of Pierce Pettis would make music that's both brainy and quietly spiritual. Grace Pettis displays a winning idealism and an awareness of the world's injustices. 'Nine to Five Girl' is a bittersweet portrait of a harried working woman that earned Pettis top honors in the 2009 Mountain Stage NewSong Songwriting Competition. The rock-tinged 'Heard Enough Now' confronts an authority figure with a defiantly questioning attitude. More introspective are the dreamily jazzy 'A Bird May Love' and the ruminative, Sarah McLachlan-esque 'The Gypsy's Code.' 'What you Didn't Want to Know' is an engaging slice of lovelorn torment.
While Grace can't be called carefree in attitude, she does allow herself a lighthearted moment with 'Italy,' a sunny travelogue. All the tunes benefit from Pettis' clear, emotive vocals, distinguished by her keening upper range. Grace Pettis is heartfelt and free from affectation and its fresh outlook is its strength." -Official iTunes Review. For more information, please go to Grace's web site: www.gracepettis.com
Billy Crockett
Change is the only constant, and music is life. This is obvious in the recent transformation of veteran writer-instrumentalist-recording artist Billy Crockett. Love for the guitar, the right word, a clear idea, and a refreshing honesty has fed a creativity that has grown into 25 years of hit-yielding albums, touring internationally and virtuoso guitar-playing, and brought him to a new perspective and a new album, Wishing Sky (Blue Rock Artists; released Nov. 2, 2009).
It's easy to summarize his life. Air Force brat born in Guthrie, Okla.; was settled in Richardson (north of Dallas) by age 6. Got his first guitar that year, a Kay acoustic free with a set of tires his father bought; Dad taught him to play by ear during lunch breaks. Studied jazz at North Texas State University. Earned a B.A. in music engineering at the University of Miami before touring Mexico and Venezuela with Latin pop star José Luis ("El Puma") Rodriguez. BMI songwriter at Austin's SXSW Music Festival, Artist-in-Residence at the Academy of Gospel Music Arts, guitar clinician for Yamaha International. Earned a master's degree in 2005 from Southern Methodist University.
It's a little harder to describe what happened between the lines, where Crockett changed and grew and a new point of view began to crystallize. But you can hear it.
He stopped recording and in the quiet, he and his wife, Dodee, began creating their shared dream, Blue Rock Artist Ranch and Studio, a top level recording facility, artist retreat and performance space on 19 pristine acres in the Texas Hill Country that they opened in 2006. As creative director, he produces albums for some of music's most vital artists, edits a thriving journal on creative process and hosts a popular concert series.
The stillness also yielded Passages (Blue Rock Artists, 2006), an album of classical guitar pieces, unhindered by words and ideologies, that he wrote and recorded.
Wishing Sky, produced by Crockett at Blue Rock, features 13 timely and candid folk-pop story-songs; appearances and contributions by Jon Dee Graham, Ray Bonneville, Pierce Pettis and Lloyd Maines; a wide landscape of subjects and moods; flowing melodies and expressive lyrics; and the gusto of a man reunited with his first true love.
"These songs are my most personal so far," Crockett says. "I am singing the gypsies, the howling dogs, the gaps and mysteries, the sweetness and silent remains of life as I know it. I have tried to do what poets must: tell it true." For more information, please go to Billy's web site: www.billycrockett.com
Dirje Smith
Dirje Smith, freelance cellist, is a natural musician whose joy in making music comes through in every note. She has spent the last 13 years supporting traveling artists at festivals and listening rooms, crafting and playing parts in the recording studio, and playing with a variety of groups. At home with many musical genres and able to read and improvise, she is, indeed, a cellist for all seasons. For more information, please go to Dirje's web site: www.dirje.com