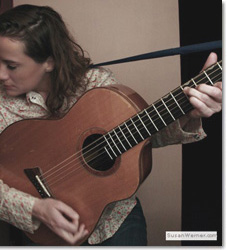 Over the course of her colorful career, singer songwriter Susan Werner has cultivated a reputation as a daring and innovative songwriter with a killer live show. She boldly endeavors to weave old with new to create altogether new genres of music when existing ones do not suit her muse, and she regularly keeps audiences guessing and laughing simultaneously. Most of her work infuses traditional music styles and methods with her unmistakable contemporary worldview, constantly challenging listeners to experience music from a fresh and unexpected perspective.
With 6 albums under her belt, an active touring career throughout the U.S. and a string of accolades from the likes of The Washington Post, The Village Voice and The New Yorker, Susan Werner has become one of the defining artists of the folk music genre. Her songs effortlessly slide between folk, jazz and pop, and are delivered with a sassy wit and classic Midwestern charm.
"Susan Werner, a clever songwriter and an engaging performer, brings literacy and wit back to popular song." -The New Yorker
"(Susan Werner is) a triply blessed artist who sings adroitly, plays the piano smartly and, best of all, writes songs of genuine distinction and high craft…" -Chicago Tribune
"(Werner is) a songwriter and musician who is in such complete command of her gifts that it's almost scary." -All Music Guide
"Vulnerability has rarely been so witty or concise in modern song." -Boston Herald
"Always an impressive songwriter, Werner continues to compose sharp, funny, compassionate lyrics, a gift rare enough to set her apart…" -The Washington Post
"The classically trained and jazz inspired singer is redefining the genre and winning admirers around the country…" -Philadelphia Inquirer
"I Can't Be New is what happens when one of the most intelligent, sophisticated folk-pop singer-songwriters turns 90 degrees. … She succeeds marvelously." -SingOut!
"This woman is great. period." -Music Row (Nashville) Susan Werner Website
Andy Gullahorn
Andy Gullahorn moved to Nashville from Austin, TX in 1994 to attend Belmont University. After graduation, he found a job doing the very thing that drew him to Nashville in the first place: writing songs. If you ask him how to go about getting into the music business, he would say to do what he did and "marry into it". His wife, singer/songwriter Jill Phillips, signed with a major record label just months after their wedding and Andy started writing for her records and accompanying her on guitar for her concerts all over the country. In 2004 they had their second child and while Jill needed some time off of the road, Andy decided to start recording and performing his own songs again. Who else was going to pay the bills? That year he released his first recording in 6 years, Room To Breathe and began opening for and accompanying singer/ songwriter, Andrew Peterson.
Andy has since released two more records: Reinventing the Wheel (2008) and The Law Of Gravity (2010). Although he spends most of his time on the road playing concerts in houses, churches, clubs, conferences & retreats, he still makes time to write songs for other artists such as Sara Groves, David Wilcox, Big Daddy Weave, Jason Gray and Alicia Keys (in fairness, one of those artists he writes for hasn't ever heard the songs he wrote for her and has no idea who Andy is).
As a songwriter and performer, Andy has been described as a surgeon who uses laughing gas to deaden the pain before he cuts you open. Whether he is writing about marriage, honesty, faith, community or his friend's lawnmower accident, Andy's songs all come from the same desire. "I really want to write songs that can act as healing agents," Andy says. "Sometimes that healing might come through laughter and sometimes it comes from exploring deep sorrow. I try to be up for whatever it takes."
In his spare time Andy likes to bowl, play disc golf, make useless videos to post on YouTube, write Haikus, and hang out with his wife and three kids. And by "hang out with the kids" I mean "get completely worn out".
For more information, please go to Andy's web site: www.andygullahorn.com