If you have not been to a House Concert, you are in for a real treat. If you are a regular House Concert addict, you already know the pleasure of this unique entertainment experience.
House Concerts are the latest thing in top quality acoustic music. Ever wish you could hear a world class singer-songwriter in the privacy of a living room without amplification or complication? Dave & Teresa's home on 318 Hampton Hill Drive in Tyler, Texas is often used for this purpose, and you are always welcome.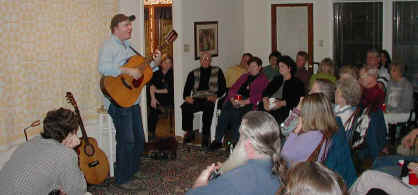 Gerry O'Beirne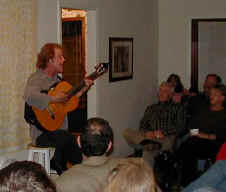 Michael Johnson
Great Acoustic Music
Our goal is to produce four quality shows per year. Our family room can accommodate 40 people. It is a smoke free setting. Admission is only $10 and all of the proceeds go to the artists. Coffee and treats are included.
Many patrons choose to leave with a CD or tape as a reminder of the great evening of "up close and personal" entertainment. Performances begin at 7:30.
Typically a "pickin' circle" breaks out after the entertainer finishes the main performance.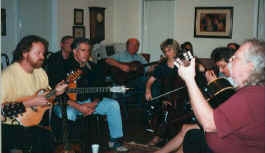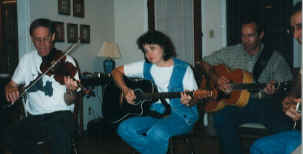 Gerry
O'Beirne

Gerry brought his
magic from Ireland to Tyler, Texas playing the Jumbo Hoffman 6-string guitar, the full-bodied
12 string guitar, and he even broke out the ukulele for a few
sing-a-longs!  Gerry's quiet spirit and complex guitar playing make
for a dynamic combination.  He pulled out all of the stops, even
getting in a few photos of the "Stalkers" himself before the
night was over.


Beyond
the Pale featureing Gordon & Christy McLeod and Betsy Ener opened
with a great dash of Celtic flair with violin, guitar, and
accordian.

March
23, 2002



Michael
Johnson


Thank God the Fire Marshal
was not able to attend!  Michael pulled in a sell-out-crowd.
SRO!  Attendants came from Oklahoma, Arkansas and Illinois.
We've enjoyed his music for 20+years on radio and TV and this house
concert appearance was dripping with class.    Michael is
an acoustic superstar and has played with all the great entertainers of
our day.  He has even performed the national anthem at the World
Series.  We were only "Bluer than Blue" because the night
eventually had to end.


Emily
Kaitz did a great opening set.

October 5, 2001

Michael
McNevin with
Dirje
Smith

Michael you are the MAN!




Michael made that guitar
his dad bought him many years ago SMOKE.  Dirje's touch added a
special sound to an already perfect balance.  This was not the first
time that Michael & Dirje performed together.  They worked the
main stage at Kerrville in 2000.

If you missed the show, check
out the following clips taken by Newt Farrar,

Certainly he recommends a cable modem.


March 24, 2001

Janet Feld
with Bill Nash

What a great night! Bill began by weaving stories from the very
serious to finding a change of clothes scatter over several miles on the highway.

Janet's upbeat performance ensured that everyone had a good night. Her
expert guitar playing with both hands on the neck confirms why she is the
undisputed "Guitar Goddess"

February 24, 2001

Dana Cooper with
Sally Barris

Dana Cooper was our first return performer. From his hard driving double-time-strumming and
bluesy harmonica work, to the sensitive acoustic tunes dedicated to his Dad, Dana is the ultimate
entertainer! Tyler can't get enough.

The big surprise of the evening was the crystal clear voice and super songwriting of Sally
Barris.

Friday November 10, 2000 7:30

TIM BAYSWho is the man under the hat?  He looks like a regular guy,
so who is Tim Bays, anyway?

Tim is one of the greatest Nashville based
songwriters. No mikes. No amplifiers. No cellphones. No nets. No strings.
"It's Magic!"

In 1987 Tim moved to Nashville to focus
less on performing and more on songwriting and in recent years has had success with songs
recorded by Randy Travis, Doug Stone, The Forester Sisters, the Nashville Bluegrass Band,
Mike Cross and others.  Peter Paul & Mary are currently playing Tim's material on
their 2000 Tour.

BTW, Sara is still in love!

July 16, 1999 (Kate's Birthday)




DANA COOPERDana's  "stalkers" arrived early to enjoy all of
Dana's favorite tunes.  How can these super talented guys be so nice and down to
earth?   How does he play the harmonica and hum at the same time?

Dana's new release Miracle Mile sold out
in just a few minutes.  Next time, bring more CDs.

April 24, 1999

CHUCK PYLE

Chuck Pyle was good enough to be our first test pilot in June of
'98.   He brought fiddle player Gordon Burt  of Colorado for a very
memorable evening of first class entertainment.  We were "Keeping time by the
river" for a long time after his visit.

June 12, 1998
For more information contact:
Dave & Teresa Sherman, 318 Hampton Hill Dr., Tyler, TX  75703
903-581-4439