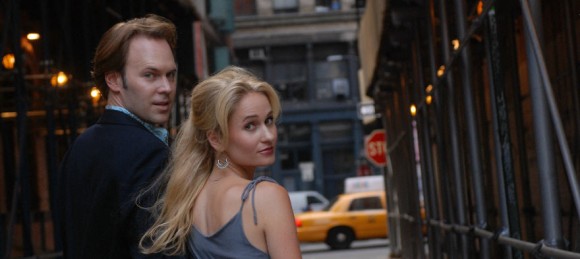 Opposites may attract, and in many ways Matt and Megan Magill are opposites, but in some big ways they are just alike. Both have always loved to sing, play music and perform, but initially their goal was to bring glory to themselves. These days they pray that theirs is a marriage surrendered to God by His grace for His glory. But the change wasn't, isn't and won't always be easy. So they keep trusting…
Matt and Megan
Growing up in western Oklahoma, Matt was accustomed to being a big fish in a small pond. His gifts and love for the spotlight soon landed him in a touring rock band, opening for national acts and playing fraternity and sorority parties everywhere I-35 would take him. Never far from any stage, Matt soon found himself starring in the rock opera, Tommy, opposite his future wife, a dazzling Tyler, Texas "triple threat" with a sharp wit and confidence in herself that rivaled Matt's. Having drifted far from her roots Megan was a women divided between her love for God and her desire for the applause and adulation her performances brought her way. The two had met their match in one another. It shouldn't have lasted but soon they were married.
In the fall of 2001 they moved to New York City to pursue dreams of rock n' roll and Broadway. But the "Big Apple" soon became a backdrop for change in their lives that they could have never imagined. Far from the spotlight Matt wrestled with addictions in nameless anonymity as Megan traveled with musical theatre tours. Drifting in a friendless fog and struggling to write "music with meaning", Matt floundered working odd jobs without purpose. Rock bottom wasn't far off.
Soon he was arrested buying drugs on the city streets – only one of many sobering experiences that opened his eyes to the reality that his marriage was slipping through his fingers and his dreams of a music career had all but evaporated. He'd come face to face with what he now calls "the sting" of conviction. Finally broken, he came to accept "the honey", or rather, the sweetness of God's Grace and forgiveness in Jesus Christ. The Magills now have hope – or rather hope has them. God has renewed their marriage and put the songs in their hearts that they now feel called to share with all who will listen.
Their testimony is a story of renewal, and their music, a personal memoir of their failures, struggles with and victories over the temptations of this world. Woven into the genres of Gospel, Country and Rock 'n' Roll, their music is a shockingly vulnerable tapestry of their experiences, pitfalls and most importantly the redeeming grace of God. The Magill's lyrics are pure — honest portrayals of their life together, written and composed by Matt. As Megan's emotional support has played a key role in the success of their marriage in good times and in bad, her vocals add a soulful depth and an undoubted poignancy to their powerful songs.
The Magill's style combines the country gospel of Elvis Presley and Johnny Cash with the sounds of modern-day Americana. At the heart of their provocative lyrics and catchy tunes is a message of hope and redemption that remains with the listener long after the music fades.
The Magills